Philippines' Outsourcing Industry by the numbers
1.3 million
Filipino outsourced
employees
10-15%
Global BPO
market share
70%
Of the BPO sector
is in the Philippines
Who We Are
ManilaPros is a premier Ecommerce outsourcing company in the Philippines with expertly sourced Ecommerce professionals in the field of customer services, creative design, and product information management. Established by seasoned executives, our leadership in outsourcing makes us a reliable outsourcing partner of many companies seeking top-notch offshore staffing services.
With our extensive experience in providing key outsourcing solutions globally, we deliver an uncompromising commitment to quality and an excellent approach to client satisfaction. Our team of experts has powered some of the world's top brands through high-value, scalable offshore staffing solutions proven to maximize operational efficiency and revenue growth.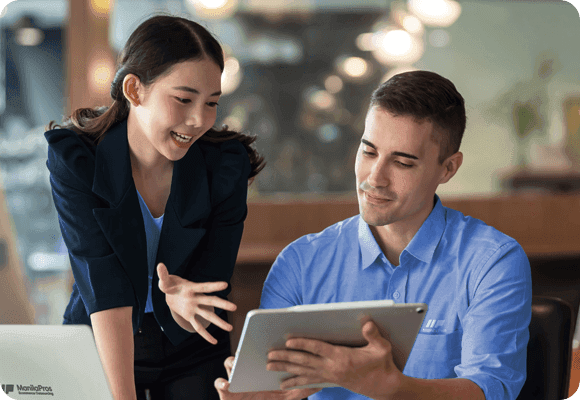 Our Mission
We commit to providing high-quality, value-added outsourcing services for our clients in the pursuit of setting their businesses up for long-term success and sustainability.
Our Vision
To become the global leader in Ecommerce outsourcing that powers the best companies with the best offshore teams.
Why Outsource to the Philippines?

The Philippine Advantage

We are located in the Philippines—the world's top outsourcing destination to date. Foreign companies trust us for our superior English proficiency and a solid affinity for Western culture. Also, the cost of living in the Philippines is relatively low, allowing you to get the best service at the lowest price.

Why Outsource to the Philippines?

Flexible Subscription Model

Pay one flat monthly rate per full-time associate with no setup fees and hidden charges. You can also cancel your subscription anytime.

Why Outsource to the Philippines?

Scalable Staffing Solutions

Scale up your operations fast with Filipino staff available beyond the standard hours. Tap into our agile team of experts during seasonal peaks to serve your customers better.

Why Outsource to the Philippines?

Dedicated Remote Staff

Build an offshore team of skilled Ecommerce experts with an awesome work culture sourced from the top 1% of Philippine talent.

Why Outsource to the Philippines?

World-class Expertise

We have become a successful outsourcing partner to some multinational companies like Apple, Canon, and Dell. We are trusted by top brands because of our cutting-edge technology and state-of-the-art facilities.
Let's build your business together!