Despite COVID-19's impact on retailers' supply chains, the Ecommerce outsourcing market continues to thrive. Many businesses have thought about outsourcing to meet customer demand following a spike in online purchases during the worldwide shutdown.
The US Department of Commerce reports that from 2019 to 2020, there was a substantial increase in total global retail sales, which significantly boosted the forecasted 8% rise in retail sales globally through 2024.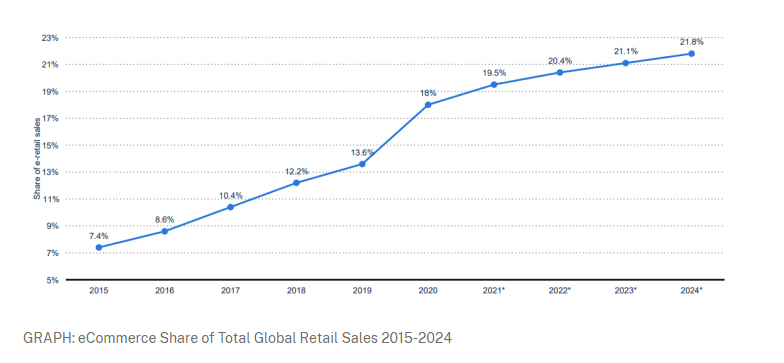 As Ecommerce sales continue to increase rapidly over the next few years, what are your contingency plans to prepare your business for growth? Have you considered Ecommerce outsourcing? If not yet, then learn about how it can benefit your business in terms of cost saving and operational efficiency.
How Can Ecommerce Outsourcing Benefit Your Business?
Ecommerce outsourcing offers a lot of benefits you may not realize. No doubt, a company as successful as Amazon still chooses to outsource for greater resource flexibility. If you're still on the fence about outsourcing, here's a rundown of why businesses are outsourcing Ecommerce services.
1. Better concentration on critical functions
Running an online store requires a lot of work. It needs the coordination of multiple functions, including but not limited to inventory management, order tracking, and customer service. Imagine you're a lone online merchant juggling all these tasks. How can you ensure you keep an eye on your critical functions?
Outsourcing Ecommerce management to a service provider provides you better focus on your core business functions. While a dedicated team handles your product information management (PIM), you have more time to concentrate on revenue-generating activities such as sales and marketing to improve your online store's bottom line.
2. Increase employee productivity
Peak seasons are common in retail businesses. For example, the days leading up to Christmas, Black Friday, and Mother's Day will likely draw more customers than usual. You may need seasonal support staff to keep a high level of customer service during peak seasons.
You can increase your employee productivity when you outsource order fulfillment services. This allows your in-house staff to focus on their assigned tasks while your offshore team counters high volumes of customer queries.
3. Reduce employee turnover
Burnout and stress are at all-time highs during peak seasons. When businesses fail to ramp up their workforce, their in-house team gets stretched too thin. As a result, they lose key people, leading to low workplace morale.
To reduce employee turnover, it's best to prepare employee resources during peak seasons. One way of doing this is to hire an offshore team from a trusted service provider. You're not only optimizing your business for seasonal peaks. But you're also improving customer service and reducing the number of customers in the queue.
4. Save on labor costs
Did you know that you can save up to 70% on labor costs by outsourcing? This is especially true if you outsource to low-cost countries like the Philippines. The Philippines has comparatively low labor costs, with wages that are only a small portion of those in Western countries.
According to Indeed, the average salary for an Ecommerce specialist in the United States is $20.83 per hour. However, if you choose to outsource to the Philippines, an Ecommerce specialist would only cost you around $9.25-$11.25 per hour. Because of these cost-effective rates, foreign BPO companies prefer to operate in this country.
5. Access global expertise
When you outsource, you're more likely to work with professionals who have serviced top brands worldwide. You can take advantage of their experience handling multiple projects from various industries. Plus, you can guarantee that they fully integrate the best industry practices into your projects.
In addition, it's easy to tap specialized skills that are not present within your organization. For instance, you want a team knowledgeable of the top marketplaces relevant to your business. You can get the best talent with the right domain expertise by partnering with an Ecommerce outsourcing company.
6. Implement the latest technology
You may need a list of software to facilitate the maintenance of consistent and quality product data. However, PIM software is rather expensive for companies with tight budgets. Some SaaS PIM software options have monthly fees, typically ranging from $450 to $850. Meanwhile, other software providers have annual fees of approximately $15,000.
To ensure you have the latest software at your disposal, partner with a reliable service provider. You can always access cutting-edge technology when working with an Ecommerce outsourcing solutions provider. This is due to their ongoing investment in the newest tools and equipment in the market.
7. Streamline your business processes
If you're new to Ecommerce, you're probably stuck with data duplication due to manual processes. If you want to automate your business processes, you may consider hiring a PIM specialist.
A PIM specialist is an expert in data entry management strategy. With the help of a PIM specialist, you can centralize your product data within a single database. This reduces duplication, ensures consistent communications across channels, and streamlines data entry workflows.
8. Scale your operation up and down quickly
Outsourcing offers scalable staffing solutions to solve your business growth challenges. For example, if your online business is rapidly growing and you want to market your product faster, hiring an offshore team with an in-depth knowledge of top marketplaces can help.
Scalable staffing solutions work best for seasonal businesses. During peak seasons, you can ramp up your operation by hiring a remote team to support your orders and inquiries. Also, you can go back to your normal operations when the peak activity subsides.
9. Minimize Ecommerce costs
Outsourcing allows you to convert fixed Ecommerce costs into variable costs. Simply put, you only pay for what you use. When you hire an offshore team, you only pay a fixed monthly rate, and they will cover everything from facilities and equipment to training.
Unlike in-house staffing, you work with full-time employees with recurring benefits. Plus, you need to provide extensive training and employee engagement activities to retain the best talent.
10. Fast turnaround times for most projects
Most Ecommerce solutions providers deliver fast turnaround times. For example, you outsource product data entry for 100% data accuracy. A product data entry specialist can process up to 30 SKU items per day. Although the volume significantly impacts the data entry turnaround time of a project, they have streamlined workflows to complete your project as quickly as possible.
In addition, they provide real-time reports on the status of your project. Also, they will give you a time frame in which they expect to deliver the finished data entry work.
11. Operate your business around the clock
Modern customers prefer to engage with online businesses whenever they want. Therefore, online merchants must ensure they can fulfill their customers' 24/7 demands and have their own IT support to handle any problems that may occur.
By entrusting your business functions to a service provider, you can guarantee that you have a team who handles your customer inquiries outside your business hours. With round-the-clock customer support, you can boost your customer satisfaction and may get positive word-of-mouth advertising.
12. Improve business insights
Gaining better business insights is one of the advantages of Ecommerce outsourcing. You can acquire more knowledge from your service provider for managing your online store.
Your service provider may be able to tell you whether keeping a particular item in your inventory at all costs is worth having it on your virtual shelf. By outsourcing Ecommerce marketing, for example, you can get insights into the volume of sales of a specific product, future sales projections, and customer satisfaction levels.
13. Enhance quality assurance (QA) processes
Most BPO companies have standardized QA processes to help you deliver better products to the customers as per their requirements. These processes are essential for building high-quality product catalogs. They perform thorough internal quality checks of your product data before it goes live on your online store.
Without stringent QA processes, your business is vulnerable to data inaccuracies. It's important to note that inaccurate product data impacts customer experience and may affect your bottom line.
14. Establish quality partnerships
Outsourcing to an Ecommerce solutions provider enables you to find an external partner committed to your success. Building a long-term relationship with your service provider gives you consistency in service quality. Because projects come from a single vendor and are performed according to the same standards, you can ensure consistency in the output quality and process execution.
Furthermore, it is easier to negotiate discounted rates when entrusting a long-term service provider with high-volume projects. As a result, you can allocate your extra budget to other parts of your business that require it.
15. Get competitive advantage
Outsourcing keeps you ahead of the curve and gives you a leg up on your competitors. To outperform your competitors, you must choose the best full-service Ecommerce fulfillment partner to help you dominate your competition.
Indeed, outsourcing has become a standard procedure for most retailers. If you're still not leveraging it, you're missing out on building a competitive advantage over other brands in the market.
Ecommerce Outsourcing Philippines: Hire the Best Ecommerce Pros
Are you looking for a full-service Ecommerce outsourcing partner to support your business? Then, outsource to the Philippines and take advantage of its low-cost yet competitive service, strategic location, and a strong affinity with the Western culture.
Consider ManilaPros, one of the best customer service outsourcing companies for Ecommerce stores in the Philippines. With over ten years of experience working with online retailers globally, we are the perfect extension of your Ecommerce team offshore.
ManilaPros offers Ecommerce outsourcing services such as product data entry, product description writing, and product photo editing. With our flexible subscription-based model, you can hire an Ecommerce expert at a flat monthly rate with no additional costs. Also, there's no long-term commitment, so you can cancel anytime.
Contact us today and learn more about our Ecommerce outsourcing services!