Analysts projected that 266.7 million people will be purchasing on online platforms worldwide in 2022. This means businesses have a lot of potential sales to capture and customers to accommodate.
As the Holiday rush draws near, retailers stock up on inventory and prepare for the increase in holiday shopping.
How about you? How are you preparing for the holiday rush? If you haven't figured it out yet, we've prepared a Christmas checklist to help you and your business cope during the busiest time of the year, so you can save more time while increasing your sales and engagement!
5-Point Christmas Checklist to Prepare Your Ecommerce Store for the Holiday Rush
1. Implement live chat support
41% of users prefer live chat, making Live chat support the top customer service channel today. Make sure you leverage live chat support during the holiday season.
Customers may have questions about your product when they shop at your online store. Provide real time answers through live chat support instead of requiring your customers to reach you by email or telephone. The quicker you respond to your customers, the more easily you can save them valuable time and convince them to place an order.
Here are various customer service functions live chat support can assist your Ecommerce business with:
Taking and processing customer orders
Answering product or service inquiries
Setting up customer accounts
Troubleshooting customer issues
Cross-selling and upselling products
If you're decided to implement live chat support this holiday season, scale quickly by outsourcing your customer support to reliable customer service experts! Outsourcing is a quick and cost-effective solution for your business.
Your outsourcing partner will do everything for you from training and setup to answering customer queries in your preferred channel 24/7. This means you no longer need to hire a full-time employee and purchase live chat software.
According to Glassdoor, the average monthly salary of chat support agents in the United States is $3,268.75. Meanwhile, the cost of live chat software stretches from $20.00-50.00/per user every month. When you outsource your customer support to countries like the Philippines, you can expect to spend approximately $1500 a month per customer support specialist. That's over 50% savings!
Moreover, outsourcing allows you to scale your business quickly so you can adapt to changing business needs. You can outsource your live chat support today and have a dedicated live chat agent serving your business within 24 hours.
If you want to cut costs on implementing live chat support and you want to implement live chat support on your website as soon as possible to accommodate holiday shoppers, outsource your live chat support to a reliable customer support service provider who has agents skilled at live chat resolution and capable of maintaining industry-leading customer service tools.
2. Design your Ecommerce site for Holidays
A Christmas holiday themed-website should be part of your Ecommerce store checklist. You're competing for your customers' attention alongside other retailers. Thus, it's important to make customers enjoy their shopping experience on your website.
That said, ensure your website correctly portrays the Christmas season with a festive appearance. This will set your customers in the mood to shop for Christmas, which results in higher engagements and store conversions.
If necessary, update your website's color scheme and add seasonal graphics and banners. Take a closer look at Macy's online store. They hired a professional web and graphic designer to build a splash page, which welcomes visitors as soon as they arrive on the website.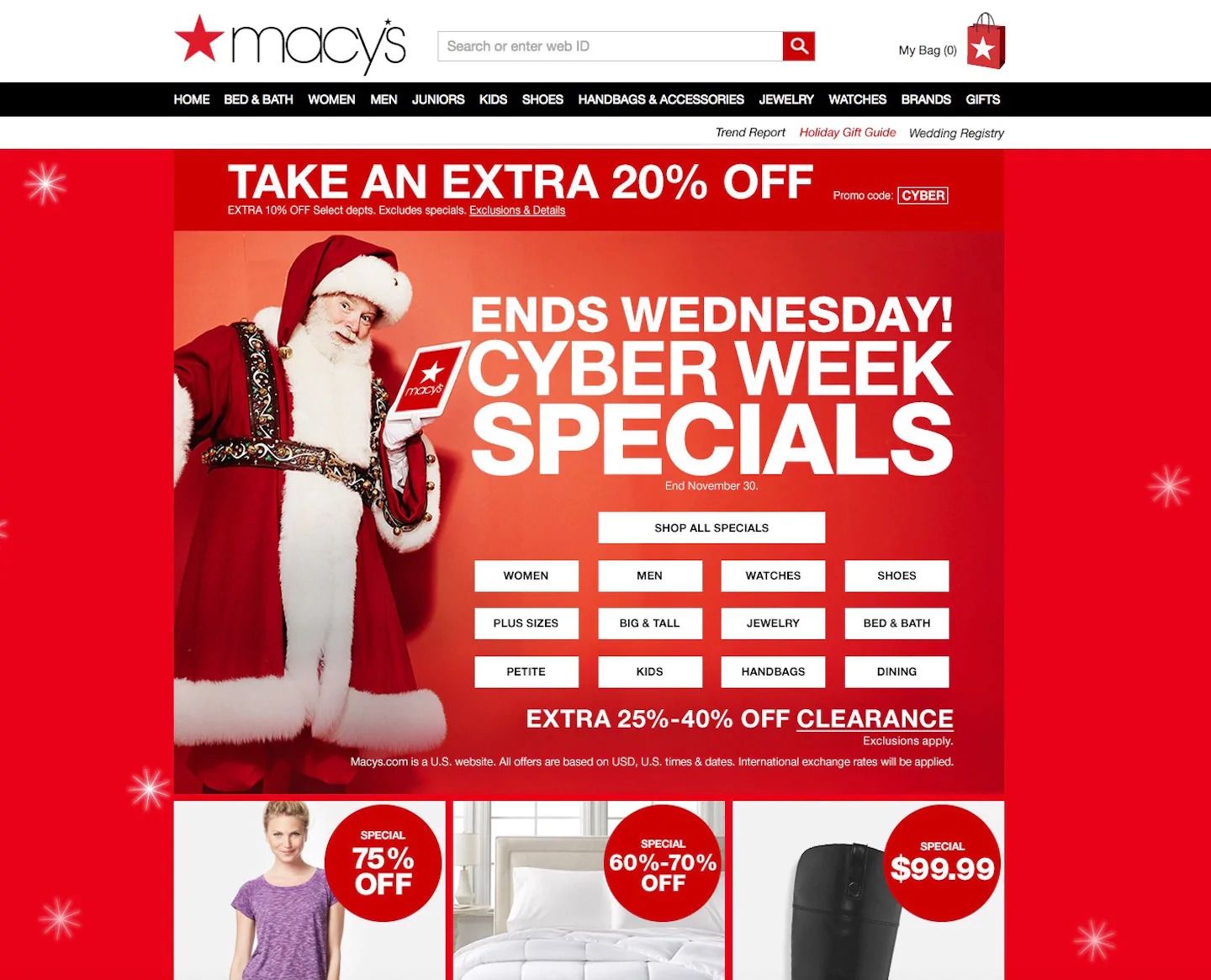 The splash page is a clever addition to their marketing efforts because it draws the visitor in and immediately displays the store's best deals.
Make your website holiday-ready and hire a dedicated web & graphic designer who can help transform your website for higher conversions this season!
3. Offer phone answering service
While experts advise you to concentrate on live chat and social media support, you should not disregard phone-related inquiries. Remember that some of your customers over the age of 50 may not be very tech-savvy. Most of them are bound to communicate with your business via phone support.
A phone answering service allows your store to operate beyond standard business hours. With after-hours customer support, you can capture all potential leads and convert them into sales. You can also avoid inquiries from going to voicemail because no one is available to answer them.
By having a phone answering service, you can add a human touch to your customer service. A worried customer, for example, may feel relieved by listening to an empathetic voice of an agent. This increases your customer satisfaction and encourages repeat business.
Meet the phone demands of your customers and outsource phone support to reliable and trustworthy customer support experts skilled at handling customers to help you with order taking, product inquiries, and troubleshooting customer issues.
4. Prioritize product content enrichment
Your Ecommerce Christmas checklist won't be complete without enriching your product catalogs with relevant data. Product catalogs with rich data make it easier for customers to assess a product and add them to their shopping carts.
An enriched product catalog comprises complete product attributes, compelling copy, and engaging images.
First, your product catalog should display data useful for your customers. It includes basic product information such as availability, dimensions, color, and specifications. Consider hiring a product data entry professional to create and update appropriate attributes for your products.
Second, your product catalog should have high-converting product titles and descriptions. Make sure they are optimized for search engines, written concisely with no fluff, and are catchy and unique. If you spend a lot of time writing product copy, considering hiring a product description writer on demand.
And lastly, your product catalog should have scroll-stopping product images. Changing backgrounds, adding shadows, correcting colors, and adjusting exposure can make your product images as realistic as possible. This allows customers to experience your product virtually, and entices them to purchase.
Make your product images look professional and click-worthy by hiring product photo editors. They can enhance your product images, so you get more clicks and sales during Ecommerce holidays.
5. Optimize Ecommerce site speed
You should anticipate an increase in website traffic the closer we are to the holidays. Although high web traffic means increased sales potential, it can also slow down your website or even cause it to crash.
If your site speed is not optimized to handle more traffic, pages would load slowly and your site could crash. These will negatively affect your user experience, resulting in higher bounce rates and low conversions.
To prevent that, follow these tips to improve your site speed and prepare for an influx of traffic this Christmas shopping season:
Choose the best web hosting service that's scalable to meet your increased traffic
Resize and compress your images before uploading them to your website
Identify and eliminate redirects that are not necessary for your website
Cache your web pages to require a server to use fewer resources in loading a page
Enable browser caching to store pages content in your user's browsers temporarily
Scale Your Business On Demand With The Best Ecommerce Support
Christmas is just around the corner. Stay ahead of the online holiday sales by scaling up your business when you need it and scaling down when there is no longer demand.
At ManilaPros, we help businesses build an extension of their teams in the Philippines so they can enjoy immediate and uninterrupted customer support while saving on labor costs. Our customer support specialists are trained and experienced at providing seamless customer support with fast first-contact resolution, whether it's on email, live chat, social media, or phone.
Besides customer support ManilaPros also offers an arsenal of other Ecommerce outsourcing solutions which have helped dozens of online retailers build a 6-figure Ecommerce business in the last 10 years. Whether you need help with product data entry, product description writing, product photo editing, web & graphic design, print design, or motion graphics, we're here to help you stay ahead of the competition!
Click here to learn more about ManilaPros' Ecommerce outsourcing services.