In a world where design is everything, it's no surprise that the graphic design industry is worth a staggering $45.8 billion globally. And with 29% of consumers citing creativity as the most important thing about a brand, it's essential that your business stands out visually.
But what if you don't have the in-house team to make that happen? You may want to explore outsourcing, the potential solution to all your design woes. In this article, we'll dive into the cost-effective world of outsourcing graphic design services, exploring how to do it, and where to find the best talent on the planet.
Is graphic designing costly?
The cost of graphic design can vary greatly depending on the graphic design projects and the designer or agency you are working with. Some common costs associated with graphic design include:
Hourly rate: Many graphic artists charge by the hour, with rates ranging from $25 to $200 or more per hour.
Project fee: Some designers prefer to charge a flat fee for the entire project, which can range from a few hundred dollars to tens of thousands of dollars.
Stock images: If you need stock images for your project, you may need to purchase them, which can add to the overall cost.
Printing: If you need physical copies of your design, such as business cards or brochures, you will need to pay for printing costs.
Additional services: Some designers may offer additional services such as branding or website design, which can add to the overall cost.
That being said, businesses often outsource graphic design work to cut down on overhead costs because it can be more cost-effective than hiring a full time employee. Graphic design outsourcing allows businesses to tap into a global pool of talent, which means they can find designers who are specialized in their field and can work at a lower rate than designers in their own country.
Can graphic designers be outsourced?
Yes, graphic designers can be outsourced. Outsourcing refers to the practice of hiring a company or individual outside of an organization to perform a specific task or service. In the case of graphic design, this can include creating logos, marketing materials, website designs, and other visual elements.
There are a number of ways that companies can outsource their graphic design needs. One common method is to use online marketplaces, such as Upwork or Fiverr, which connect businesses with freelance designers from around the world. Another option is to hire a design agency, which can provide a team of designers with specialized design skills and experience.
Examples of companies that outsource graphic design include:
Small businesses that may not have in-house design resources or need specific graphic design projects.
Ecommerce companies that need to design a lot of product images and marketing materials.
Startups that need to create a brand identity and visual assets for their website and social media accounts.
Large companies that want to outsource non-core functions to reduce costs and increase efficiency.
Outsourcing graphic design can have a number of benefits, such as lower costs, access to a wider pool of talent, and the ability to scale design resources as needed.
However, it can also have drawbacks, such as a lack of control over the design process, communication challenges with remote designers, and the potential for lower quality work. That's why it's important to choose a service provider that has established service level agreements so you can see faster ROI from your outsourcing initiatives, resulting in business growth.
How do you outsource designs?
Do you want to have a gist of how graphic designs are being outsourced? Here are some of the steps you will go through in order to successfully outsource your graphic design needs to a reliable outsourcing vendor:
Research
Look for reputable graphic design service providers that have a strong portfolio and positive reviews. You can search online or ask for recommendations from colleagues or other business owners.
Contact
Reach out to graphic design and marketing agencies you are interested in working with. Provide them with information about your project, including the scope of the work and your budget.
Review Proposals
The service provider will likely provide you with a proposal outlining the work they will do and the cost. Review these proposals carefully to ensure that they meet your needs and that the cost is within your budget.
Select an Outsourcing Partner
Choose a service provider that best meets your needs and budget. Be sure to ask any questions you may have and clarify any details before making your final decision.
Sign Contract
Once you have chosen a partner, sign a contract outlining the scope of the work and the cost. Make sure that the contract includes a timeline for completion and clear guidelines for revisions and final approval.
Provide Brief
Provide the service provider with a detailed brief outlining your project goals, target audience, and any specific requirements you have. This will help ensure that the service provider understands your needs and can create a design that meets your expectations.
Review Progress
Monitor the progress of the project with the account manager by reviewing the designs and providing feedback to the service provider. Be sure to communicate any changes or revisions you would like to see.
Approve and Pay
Once the final design has been approved, make the final payment to the agency and receive the final files.
Maintain Relationship
Keep a good relationship with the agency and consider using them again for future projects.
What are the 4 types of graphic designers?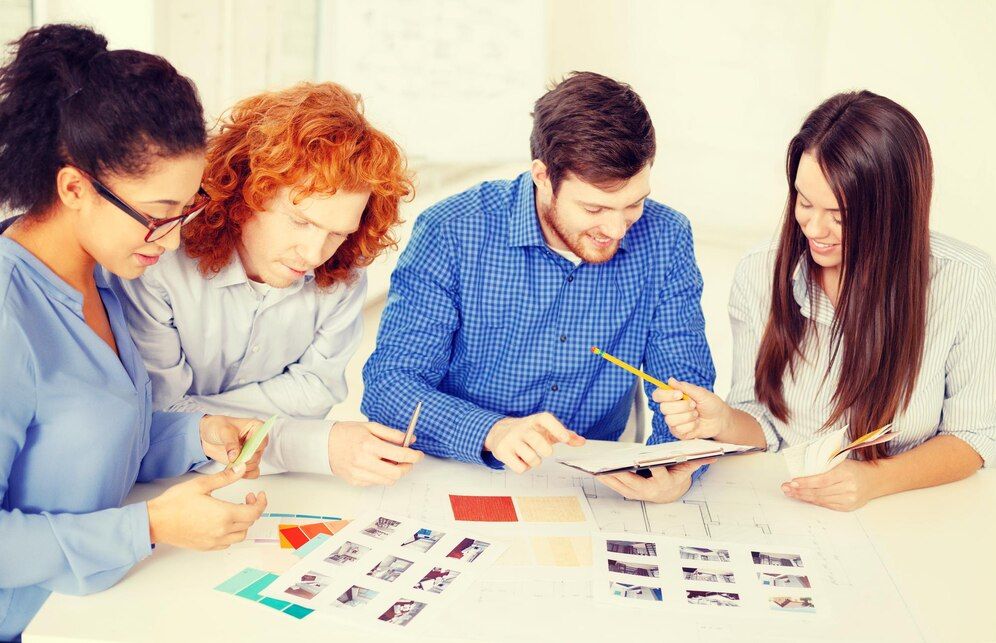 Your creative design needs should match the type of graphic designers you must work with. Here are the different types of graphic designers you can outsource if you don't know who's the best expert to handle your creative design needs:
Branding/Identity Designers
These designers specialize in creating visual identities for businesses, including logos, color schemes, typography, and other elements that make up a brand's visual language. They can help your business establish a consistent and recognizable visual identity across all of its marketing materials.
Web Designers
These designers create the layout, design, and user experience for websites. Outsourcing web design services can help your business create a visually appealing and user-friendly website that effectively showcases your products or services.
Marketing Designers
These designers create designs for marketing materials such as brochures, flyers, posters, and social media graphics. They can help your business promote its products or services in a visually engaging way.
Packaging Designers
These designers create the packaging design for products. They can help your business create packaging that effectively communicates the product's key features and benefits, and stands out on store shelves.
All of these types of designers can help your business create a professional and polished visual identity that effectively communicates your message and appeals to your target audience. In addition to this, they also help in creating a cohesive look and feel that can be used across multiple channels and platforms.
Can I have weekly scrums or meetings with my outsource graphic designer?
Yes, you can have weekly scrums or meetings with your outsourced graphic designer. In fact, maintaining regular communication is key to ensuring that the project stays on track and that any issues are addressed quickly. Here are a few tips to have easier communication with your offshore team.
Use a project management tool
Utilize a project management tool such as Asana, Trello, or Basecamp to track progress, assign tasks, and share files. This will help you stay organized and ensure that everyone is on the same page.
Schedule regular meetings
Schedule regular meetings (e.g., weekly scrums) to check in on progress, review designs, and discuss any issues that may have arisen. Use video conferencing tools like Zoom, Skype, or Google Meet to facilitate communication.
Establish clear guidelines
Provide clear guidelines for communication, including expectations for response times, preferred method of communication, and procedures for handling revisions and changes.
Clearly defined milestones
Set clear milestones for the project, including deadlines for deliverables and key review points, and make sure that both you and the designer are aware of them.
Be open to communication
Encourage open communication, let your designers know they can reach out to you if they have any questions or concerns. It's also important to let them know how they can reach you, and what are the best hours to contact you.
By maintaining open and regular communication, you can ensure that the project stays on track and that any issues are addressed quickly. This will help you build a good working relationship with your designer and ultimately ensure a successful outcome for your project.
Where is the perfect outsourcing destination for graphic design services?
The Philippines is considered a top destination for outsourcing graphic design work. ManilaPros, for example, has delivered design work projects for top global brands like Apple, Canon, and Dell. Here are the reasons why top global companies trust the Philippines as their outsourcing partner:
High-quality talent
The Philippines has a large pool of highly skilled and experienced graphic designers, many of whom have received formal training in design and have experience working with international clients.
Low labor costs
The cost of labor in the Philippines is significantly lower than in many other countries, making it an attractive option for businesses looking to outsource their design work to save money.
Strong English proficiency
The Philippines has a high level of English proficiency, which is important for effective communication and understanding project requirements.
Similar time zone
The Philippines is in the GMT+8 time zone, which is similar to many Asian countries, and allows for smooth communication and coordination, particularly for businesses based in Asia.
Cultural compatibility
Filipino culture has a lot of similarities with Western culture, which makes it easier for them to understand and work with clients from Western countries.
Good work ethic
Filipino graphic designers are known for their good work ethic, attention to detail and ability to deliver high-quality work on time.
All of these factors make the Philippines an attractive location for businesses looking to outsource their graphic design work, and it's also one of the reasons why many big companies outsource graphic design services to the Philippines.
Outsource Graphic Design Services with Excellent Filipino Designers
Do you want to work with the top 1% of the best graphic designers in the Philippines? Then, partner with ManilaPros that has been in the creative industry for over ten years!
Why wander far and wide, when all your design needs can be met under one roof? Be it crafting a stunning logo design, to crafting a website that leaves an impression, we have a team of pre-vetted designers that are at your service.
As an Ecommerce service provider, we love to help brands with high-volume creative work that needs to get done. From eCommerce to marketing companies, we only provide quality and unlimited graphic design services.
We harness the power of cutting-edge technology to craft designs that are nothing short of exceptional. Equipped with the latest version of Adobe Creative Suite, our design team wields the tools of the trade to elevate your brand across all digital platforms.
Contact us today and learn more about our Ecommerce design services.