If you were an Ecommerce business owner looking for somebody to edit your product packaging designs, which one should you hire: a graphic designer or a print designer?
"Does it matter if I choose a graphic designer over a print designer? I think they can both provide me with a good product packaging design!"
We hate to break it to you, but it does. Let us tell you the story of Tropicana's packaging design failure.
Back in 2008, the beverage manufacturer hired ad agency Arnell to rebrand all aspects of its well-known product and packaging design. They made a lot of drastic changes from logo to product information and package functionality. Unfortunately, what was considered a smart move had turned into the worst rebrand in the history of orange juice.
To sum up, consumers could not identify the product on the shelves. Two months later, Tropicana suffered a sharp drop in sales by 20%, causing the company to lose $30 million.
Whether it is Tropicana's fault or Arnell's, one thing is clear: you should assign the right job to the right expert.
When it comes to designing packaging designs, it's pretty straightforward that you need a print designer. So let us explain to you the scope of support of a print designer and why you need to hire a great one.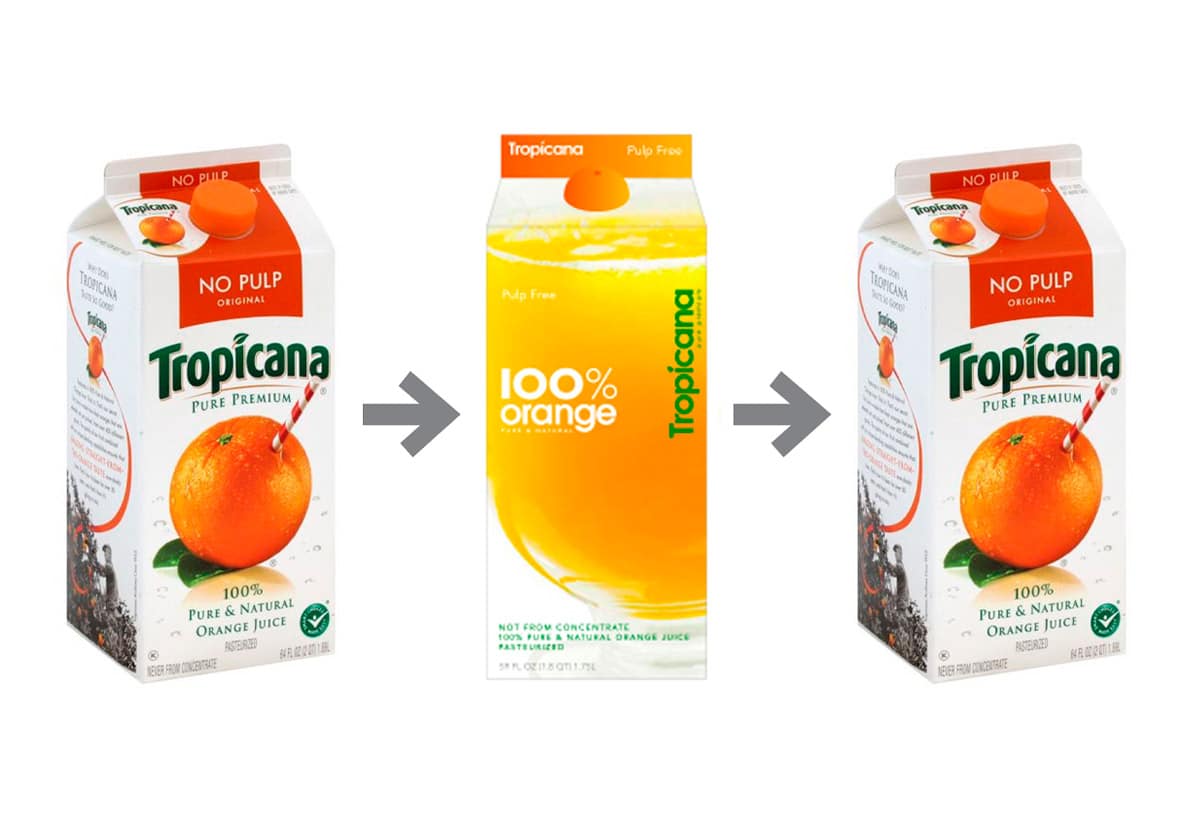 What is a print designer?
A print designer is a professional within the graphic design industry that specializes in designing printable materials. Their role is quite similar to a graphic designer. However, instead of creating artworks, they focus on creating designs for commercial products and printed media.
Highly-skilled print designers are not only knowledgeable of graphic design and printing techniques. They also have a good understanding of market trends and consumer needs. A huge part of their job is to make their print designs functional and appealing to end-users.
One of their responsibilities as designers is to ensure their final designs appropriately represent their client's brand. They choose the right font and color, adjust line and letter spacing, and make visual elements stand out to the end-users. They also make sure that a design's dimensions and technical specifications are suitable for printing.
When it comes to design technologies, there are tools that a print designer must be familiar with. Reliable print designers must be proficient with design software such as Photoshop, Illustrator, and InDesign. They must also have a good knowledge of print standards such as G7, GRACoL, and SWOP.
What are the different types of print designs?
Print design is all around us. Every design we see on any printable material is a creation of a professional print designer. There are many types of print design, but below are some designs you're probably aware of:
Packaging Print Design (e.g., retail packaging design, custom packaging design, cosmetic packaging design, box packaging design, food packaging design, paper package design, electronics packaging design, and pharmaceutical packaging design)
Labels (e.g., food gift label, wine label bottle, pill bottle label, beer bottle label, CD label mock-up, wedding address label, and gift bag label)
Posters (e.g., infomercial posters, movie posters, political ad posters, fashion posters, corporate posters, campaign posters, and digital posters)
Flyers (e.g., handbills, pamphlets, marketing flyers, digital flyers, and corporate flyers)
Brochures (e.g., medical brochures, non-profit brochures, travel brochures, real estate brochures, business brochures, event brochures, and corporate brochures)
Business Cards (e.g., corporate packaging design, automotive business cards, educator business cards, calling cards, travel services business cards, construction business cards, appointment reminder business cards, and restaurant business cards)
Letterheads (e.g., standard letterhead, specialized letterhead, custom letterhead, executive letterhead, and academic letterheads)
Stationeries (e.g., corporate stationeries, invitation stationeries, and brand stationeries)
Pull-up banners (e.g., trade show banners, auto dealership banners, corporate events banners, 3d printing design, and media backdrop banners)
Catalogs/Magalog (e.g., fashion lookbook catalogs, product catalogs, interior catalogs, portfolio catalogs, and university catalogs)
Stickers (e.g., laptop stickers, motorcycle stickers, wall stickers, logo stickers, and die-cut stickers)
Trade Booth Design (e.g., wall designs, exhibit designs, hanging signs, and backdrops)
Event Collaterals (e.g., save-the-date postcards, invitations, programs, billboards, banner stands, and floor graphics)
Signages (e.g., compliant signages, informational signages, outdoor signages, wayfinding signages, and safety signages)
Which industries need print designing services?
As you probably already know, print designers work in marketing and publishing. You may not be aware of it, but print designers are also in demand in businesses outside the mainstream. Below are some of the industries that require the services of professional print designers for creating effective marketing materials:
Ecommerce
Healthcare
Automotive
Educational Institutions
Retail and Manufacturing
Journalism and Advertising
Government and Public Relations
Benefits of having a dedicated print designer
Businesses that have employed print designers in their creative production have seen positive outcomes in their productivity, profitability, and customer base. Below we rounded up the top five benefits of hiring a print designer in improving your brand identity and online sales:
1. Build trust among customers
According to buySAFE, 81% of online customers are worried about shopping on a website they are unfamiliar with. Therefore, if your online business is still new in the market, gaining customer trust could be an uphill battle.
There are multiple ways to build trust for your online business. But the first step is to make your online store appear credible and visually appealing. What exactly do we mean by that? It means your product images must be high quality, and your font, color, and brand identity are consistent across all touch points.
If you're not getting enough attention and conversion, your product images may not seem to be trustworthy enough. However, you don't have to wait for too long until your ad budget runs out. Instead, you can hire a print designer who understands what design drives people to buy.
A print designer knows how to infuse trust in your print designs. This trust begins with making a good impression for your brand. Keep in mind that you're requesting sensitive information from your customers, such as their credit card information. They are unlikely to do so if your online store does not appear trustworthy.
2. Increase brand recognition
If you're in the retail or manufacturing industry, you know that having easy-to-recognize products is the key to stand out from the competition. Most shoppers take a few seconds to scan the shelves and consider their product options. So, how are you confident that a shopper will grab your product?
The design of your product should be straightforward, distinct, relevant, and memorable. If you don't have experience designing easy-to-recognize products, you're more likely to produce underwhelming designs that drive your customers away. So, why are you wearing multiple hats if you can easily entrust the designing task to an expert?
A print designer can help you increase your brand recognition. By displaying quality print designs, customers are more likely to remember your brand. Also, it's crucial to note that having a well-known product makes you a formidable competitor in your market. The more people identify your brand and are aware of your online presence, the more you become an industry leader.
3. Speed up designing processes
Creating a product design from scratch takes a lot of time. How much more if a business owner yourself decides to do it without the expert guidance of a print designer? Certainly, you'll encounter some lapses that you could've avoided if you only had a dedicated print designer from the start.
A print designer has a streamlined workflow process to guarantee you only render top-notch designs at fast turnaround times. Before publishing, they review your designs first to ensure that copy, layout, and dimensions are print-ready. Also, they help you keep your creative production organized and see to it that your designs resonate with your target audience.
In addition, you can focus on your core business functions as a business owner. With a print designer at your disposal, you can save a lot of your time and expedite your print designing processes.
4. Improve business revenue
A great print designer will help you gain higher visibility, which can lead to improved business revenue. Attractive print designs draw eyes in. Seeing visually appealing photos can prompt online customers to try your products, check the price, and possibly make a purchase.
Furthermore, you can avoid cost overruns from failed designs by hiring an experienced print designer. A print designer can promise you to produce designs that only meet your customer needs and marketplaces' standards. Also, they can ensure your design expenditures won't exceed the planned budget because they deliver projects with little to no revisions.
5. Gain competitive advantage
Certainly, most of your competitors are hiring graphic designers as they assume they can do all types of designs. While most graphic designers are versatile, they don't have the expertise in creating designs for printing. If you want to create designs on a finished product, a print designer is the right person to do that job.
Hiring a print designer comes with numerous advantages. One is their understanding of color calibration and technical printing standards, which graphic designers may not have. Also, they have solid experience in producing a range of printed materials. That said, you're confident that you have an expert who ensures your product design is absolutely pixel perfect and suitable for printing.
Apart from expertise, you can also access some industry-leading tools if you outsource to a service provider. Having an in-house staff would cost you additional fees for software subscription services. On the other hand, when you outsource to ManilaPros, you only pay a fixed monthly fee, and your design projects are delivered without delays.
Get High-Converting Print Designs by Outsourcing to ManilaPros
Are you looking for a cost-effective way of hiring the best print designers in the job market? Take it from outsourcing experts! Consider outsourcing to the world's top outsourcing destination—the Philippines. So what's in it for you when you outsource to the Philippines?
Outsourcing to a Philippine-based outsourcing company like ManilaPros can reduce your operational costs by up to 70%. Not only do we save you on costs, but we also allow you to hire a professional at a fixed monthly fee with no setup fees. And the best part is our service plan comes with unlimited revisions and real-time performance reports.
Do you want to start creating high-converting print designs for your business? Then, book a demo with us today by clicking the button below!