There has been a sudden uptick in the search volume of 'Ecommerce Outsourcing Philippines' following a number of US companies moving their business operations to the Philippines.
When Amazon started outsourcing its customer support in the Philippines, it sparked curiosity among online merchants. As a result, the last few years have seen a rapid increase in companies that outsource to the Philippines—the world's top outsourcing destination to date.
Ecommerce companies that have outsourced to the Philippines had faced many challenges before they successfully built their offshore team in the Philippines. But we are here to make your Ecommerce Outsourcing Philippines journey as easy and swift as possible.
We've successfully onboarded hundreds of clients in the Ecommerce industry in the past. According to our outsourcing experts, here are the five simple steps you must follow to successfully build the perfect extension of your team in the Philippines:
5 Simple Steps to Follow on How to Outsource in the Philippines
You must carefully analyze your outsourcing goals before initiating your Ecommerce Outsourcing Philippines journey. Make sure to specify what your company aims to achieve from outsourcing and how you'll know when these goals have been fulfilled. These goals will dictate how the project is organized, what tasks are delegated, and the nature of your partnership with the service provider.
As an Ecommerce business owner, your first task is to conduct your due diligence and ensure you have a clear set of goals from the start. If your outsourcing goals aren't properly defined, you'll find yourself agreeing to outsource Ecommerce management services that are irrelevant to your business.
We've worked with Ecommerce businesses of all sizes, and here are some of the outsourcing goals that we've fulfilled on behalf of them:
Reduce labor costs by up to 70%
Access specialized skills not present in the company
Utilize the best industry-leading tools in the market
Concentrate on core business functions
Provide uninterrupted service to customers
Scale their business operations quickly
Increase customer lifetime value and online sales
All the parties engaged in an outsourcing deal benefit from having a clear understanding of their outsourcing goals. Additionally, it helps to avoid misunderstandings between you and your outsourcing vendor in the future. Since both enter into the agreement with the same expectations, communication gets easier and results in long-term partnerships.
2. Determine what business function to outsource
Ecommerce businesses now have countless ways to get specialized skills outside their organization, thanks to Ecommerce outsourcing Philippines. You can obviously outsource any roles listed on your organizational chart. However, according to several industry experts, one of the common outsourcing mistakes to avoid is subcontracting anything relevant to your core business operations.
Consider HR functions, the heart and soul of your company. According to industry experts, outsourcing HR functions frequently causes a disconnect between employees and the organization. Employees encounter communication delays when the HR department is not immediately accessible, which makes them feel frustrated and insignificant to the company.
Experts agree that internal operations should be used for HR-related tasks. Keeping this essential business function in-house ensures that any problems or disagreements within the company can be handled and resolved immediately.
Meanwhile, here are some non-core Ecommerce business functions you may want to outsource to the Philippines to improve your cost-reduction and operational efficiency:
3. Calculate the cost of the outsourcing decision
After you've specified the function you want to outsource, now is the time to calculate the internal costs you can eliminate by outsourcing.
To get started, make a list of your direct costs (such as wages, equipment, commissions, etc.) and indirect costs (such as rent and utilities). Then, cross off any expenses you don't need to cover when you opt to outsource. It is crucial that your in-house costs for the function you wish to outsource must be lower than the actual costs of outsourcing.
The next step is to estimate the overall expenses of outsourcing a particular business function. You may want to book a service demo with your preferred outsourcing partner, who can offer all pricing details, including the processes of successfully building your offshore team.
The final step is to determine the difference between costs avoided and costs associated with outsourcing. Then, subtract the overall costs of outsourcing from the in-house costs of your outsourced service. If the numbers demonstrate that outsourcing can significantly lower your operational expenses, then your company may now look for a service provider and obtain quotations for Ecommerce outsourcing services.
4. Find the best outsourcing service provider
Looking for the perfect outsourcing partner that understands your needs is not a walk in the park. You have to evaluate every service provider by factoring in their industry experience, values, data security, facilities, and many more. It's important to note that frauds and scams are rampant in outsourcing. If you don't do your due diligence, you can end up working with a service provider that has a negative reputation for conducting business.
How can you be sure the vendor you're outsourcing to has your best interests in mind? Here are some simple steps to follow to ensure you only align with the best Ecommerce outsourcing company:
Find out how to contact your chosen service provider (phone numbers, email addresses, etc.). Usually, the service provider will have its contact information available on its website. If the website does not contain it, there is no need to ask further; move on to the next outsourcing vendor.
Verify if the company has been reported as a scam. To confirm the integrity of your vendor, you may also find listings of online scammers on websites like Ripoff Report. If you want to look for Philippines outsourcing companies you can trust, contact the SEC Company Registration and Monitoring Department at (8) 818-5554 or (8) 818-8803; locals 279, 284, 214, and 256.
You can also ask for your vendor's portfolio of completed projects, case studies, and certifications that can be viewed on their company website. Requesting customer reviews and testimonials may also help you verify their legitimacy.
If you are outsourcing output-based services, ask your vendor if they are active on any niche professional social media sites. For graphic design, you may visit Behance and Dribbble to verify their design portfolio.
5. Get ready for the client onboarding process
After you've selected the best service provider, it's time to jump on a quick discovery call or book a demo. The service provider will inquire about your internal team, IT capabilities, and infrastructure requirements during the conversation because these are essential for getting started. If you're outsourcing product information management, these are typical questions you can expect and be prepared to answer:
Do you have a product/service training program and timeline?
How many SKUs do you process per day/month?
What tools do you use for processing SKUs?
What marketplace or website do you need to onboard your products to?
Who can be our main point of contact?
How many in-house staff will our offshore team be working with?
How many offshore team members do you require?
What are your business goals and objectives for outsourcing this service?
The above-mentioned questions gauge the readiness of your Ecommerce business to operate remotely. Your service provider can start tailoring their offshore solutions based on your answers to these questions to meet your company's operational requirements.
Your go-live date varies depending on your outsourcing vendor. But here at ManilaPros, we see to it that clients will have a smooth onboarding process that is simplified and custom-fit to their requirements. Upon completing all requirements, your offshore team may start hitting the ground running on Day 4. Please check our sample timeline for our client onboarding process: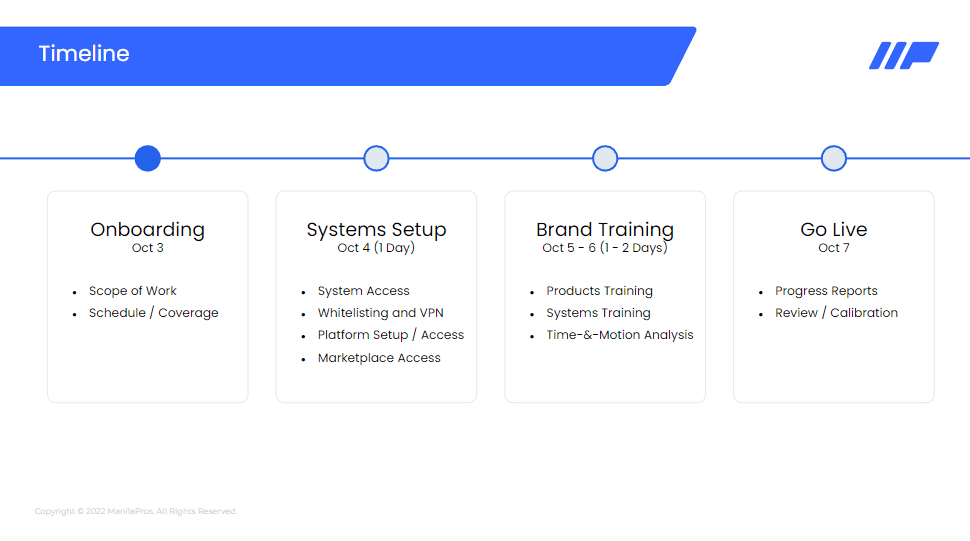 Ecommerce Outsourcing Philippines: Why Outsource in the Philippines?
Major companies that outsource to the Philippines include Google, Microsoft, and Amazon. By building an offshore team in the Philippines, these companies could save up to 70% on labor costs. With the Philippines' low wage rates and low cost of living, you can also reduce your labor costs while improving your operational efficiency.
If you're looking for an Ecommerce outsourcing company, consider ManilaPros as your next outsourcing partner. We offer flat-rate Ecommerce support services perfect for small and medium-sized businesses ready to scale up quickly. From customer support and print design to product data entry, we have turnkey solutions to optimize your Ecommerce store and help you become a successful seller on major marketplaces.
Click here to learn more about our Ecommerce outsourcing services.